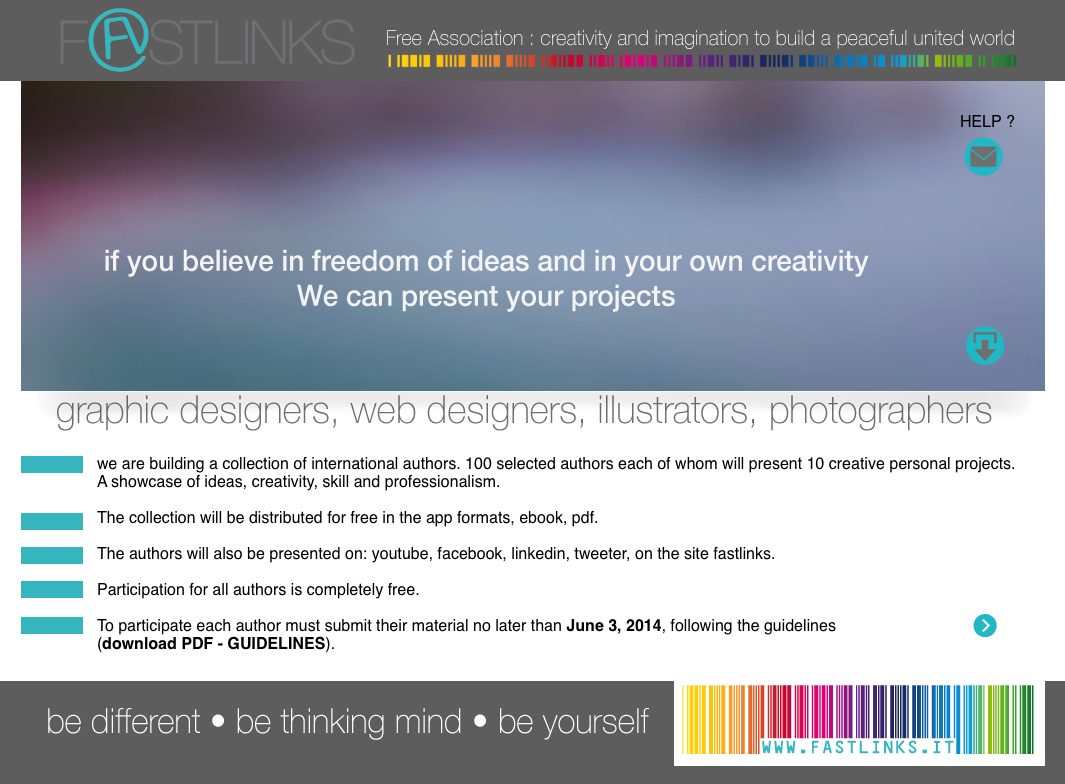 Maestro d'Arte, Diplomato al III Istituto d'Arte di Roma.
Laureato all'Istituto Europeo di Design (IED) di Roma, dopo aver completato la tesi con il Prof. Luigi Vernieri (direttore del noto magazine Fefè Project)  e completato gli studi con noti professionisti nel campo della comunicazione: Pontomio Bonifacio (Docente Universitario "La Sapienza" Roma), Franco Zeri (Art Director Rai International), Stefano Luceri (Designer di spicco della Capitale), Raoul Cilento, Chiara Caproni e tanti altri.
Amante delle Arti Visive, della sobrietà e dell'eleganza. Sa esprimersi con colori e forme, basilari nell'espressione umana fin dai primi anni della comunicazione primitiva. Il suo Modus Operandi è genuino ed elastico, pronto a nuove sfide.
Attualmente lavora come freelance con agenzie di comunicazione, aziende, enti pubblici e privati (KOI-adv, ELT - Mind is the first Defence, REGIONE LAZIO - Provincia di Roma, D'AMORE & D'ITALIA - produttori di eccellenze, UNIONE EUROPEA - Fondo Sociale Europeo, ETELOS - Musicians & Artists Farm, ENTERPRISE EUROPE NETWORK, ADV Magazine con SHOPPING IN LOVE MAGAZINE - CinecittàDue, TERRA JONICA, ASSOFRANTOI, CONFAGRICOLTURA, CASA EDITRICE UNIVERSITALIA,).
Dal 2013 è entrato nel mondo del Wedding dopo la sua esperienza di preparazione delle proprie nozze, così da poter aiutare molti giovani sposi nell'organizzazione rendendo l'evento indimeticabile e sempre nel 2013 ha frequentato con molto interesse un corso di formazione da Wedding Planner con la Fenicie Eventi attraverso l'Accademia degli Eventi di Roma.
Il corso è stato tenuto da specialisti nel settore: Tiziana Lucioli, Claudia Ruffo di Calabria, Massimo Sgrelli e tante altre personalità del campo.
Master of Art, graduated at the IED ,"Istituto Europeo di Design", in Rome with a thesis in visual communication (Prof.Luigi Vernieri, editor of "Fefè" magazine). Well-known professionals accompanied me during the studies: Pontomio Bonifacio (University of Rome, "La Sapienza"), Franco Zeri (Art Director Rai International), Stefano Luceri (Designer), Raoul Cilento, Chiara Caproni.
Lover of Visual Arts, I can combine colours and shapes with sobriety and elegance. I am a multitasking and easy-going professional. I've been working as a freelance for public and private.
In 2013 I got married and I personally planned my marriage. After that amusing experience, I decided to attend a Wedding Planner course, at "La Fenice Eventi" (Academy of events, Rome): it was taught by prominent personalities within the field of Wedding: Tiziana Lucioli, Claudia Ruffo di Calabria, Massimo Sgrelli and many others.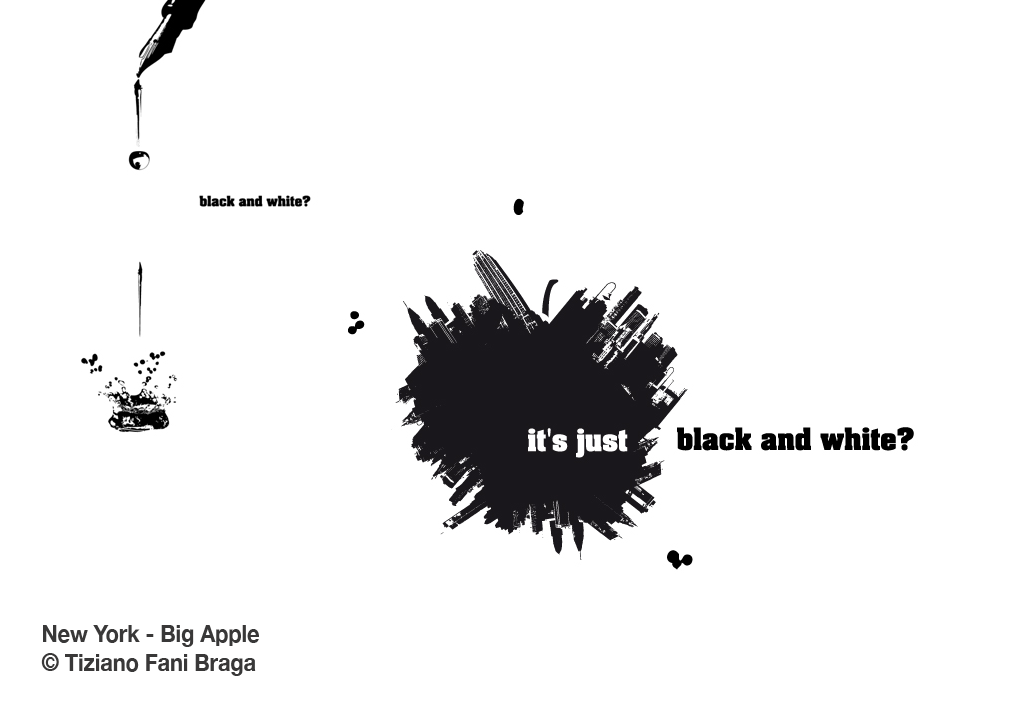 New York - Big Apple
Progetto realizzato per il visual magazine ADAM (art digital magazine).
L'immagine rappresenta il binomio "Black & White", da una goccia d'inchiostro che rapprenda le arti, sia letterarie che pittoriche, parte una goccia d'inchiostro cade sulla pagina e la macchia assume la forma di una mela formata da grattacieli che rappresentano proprio la Big Apple.
Project realised for ADAM visual magazine (art digital magazine). 
The image represents The copule Black and White: a drop of ink incorporates Arts, both literary and visual ones, and generates a skyline-shaped apple, The Big Apple.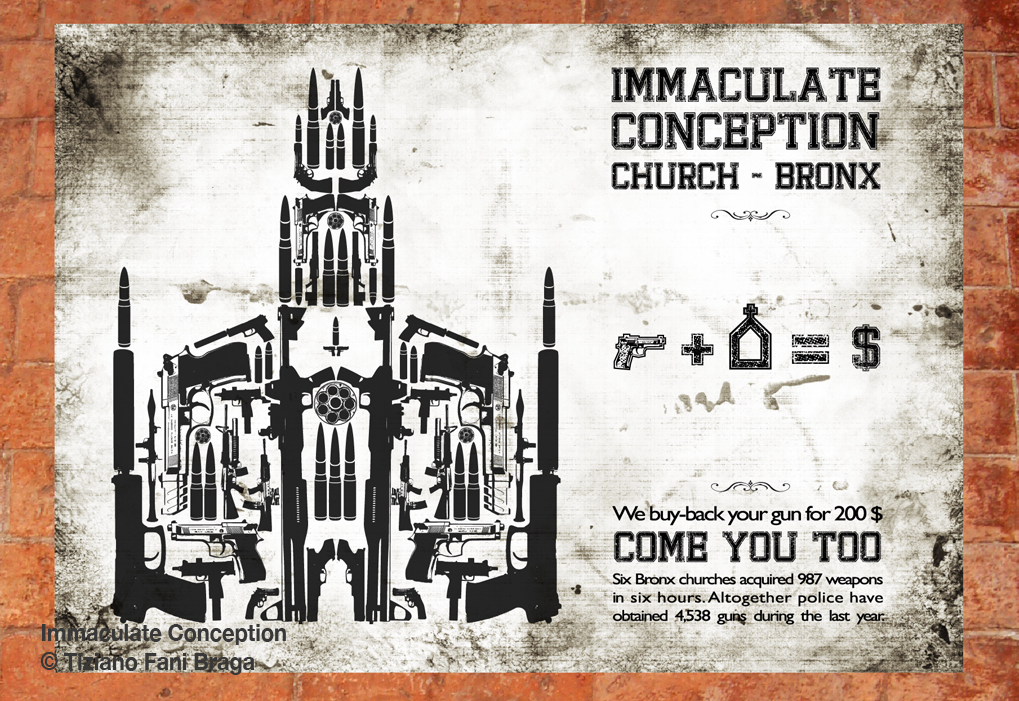 Progetto realizzato per il visual magazine ADAM (art digital magazine).
Questo progetto è nato da una analisi socio-economica del Bronks e quello che ha colpito è un evento accaduto nella Chiesa Cattolica dell'Immacolata Concezione in cui portando le proprie armi venivano ritirate in cambio di denaro, così da diminuire l'alto tasso di criminalizzazione e di omicidi. L'immagine all'inizio potrebbe essere tradotta in negativo ma con un'attenta osservazione si capisce il vero senso.
Project realised  for ADAM visual magazine (art digital magazine).
This project was conceveid from a socio-economic analysis of an initiative by the catholic church "Immaculate Conception", in Bronx: guns were picked up and exchange for money, in order to help decreasing the high rate of  and murders in the district. A church made up of guns is a provocative and equivocai image that catches viewers' attention: only a careful  reveals its deep meaning.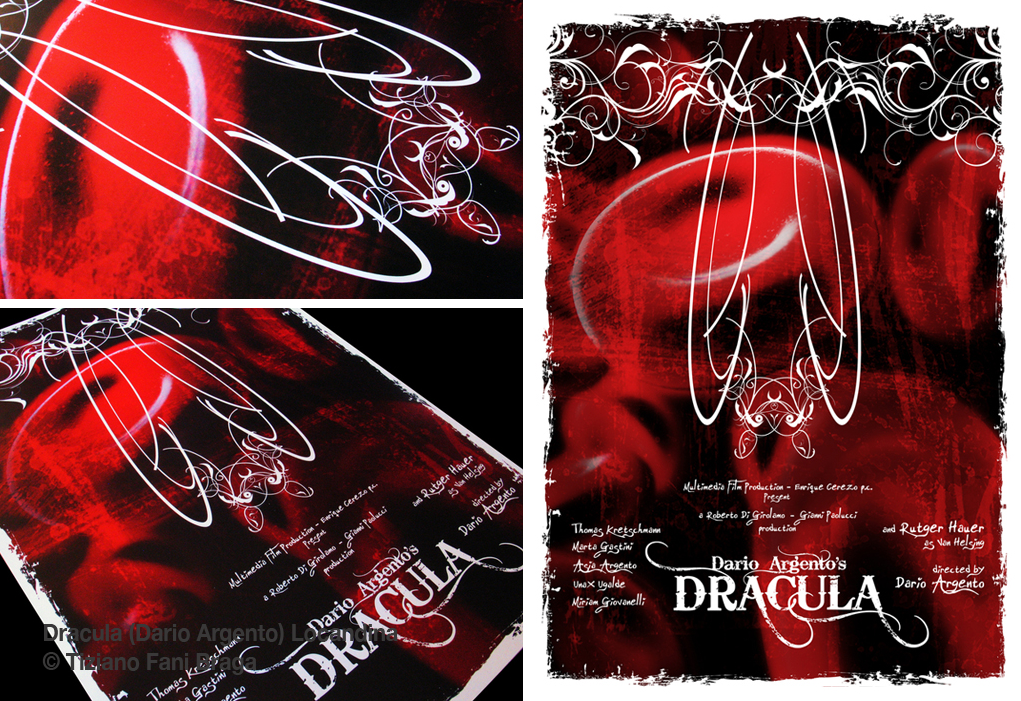 Dracula (Dario Argento)
Questo manifesto è stato creato per un concorso e arrivato tra i primi 10 classificati.
La locandina è una vera e propria decorazione che forma un pipistrello che si accosta perfettamente con il titolo (dato dai produttori del film).
Sullo sfondo si può notare, con più attenzione, la presenza di "Globuli Rossi" che riconducono direttamente alla principale caratteristica dei vampiri.
Dracula (A movie by Dario Argento)
This poster was designed for a contest and finished in the top 10. 
The poster is a bat-shaped decoration that combines perfectly with the title (chosen by the producers of the movie). 
In the background, paying more attention, you can see the presence of red blood cells that evokes the "eating habits"of vampires.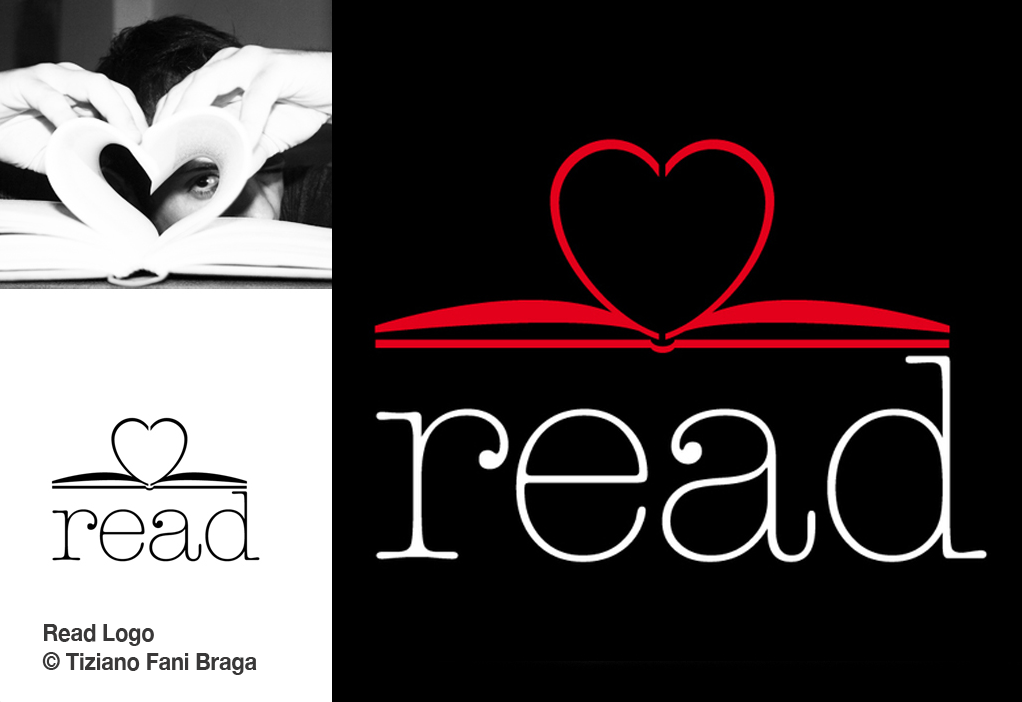 Read Logo
Logo creato per un progetta della Mondadori, questo logo è nato da una trasposizione grafica del mio autoritratto  che si può tradurre proprio come: Amo leggere.
Logo designed  for a Mondadori project,it's a graphic transposition of my self portrait. It can be translated as: "I love to read".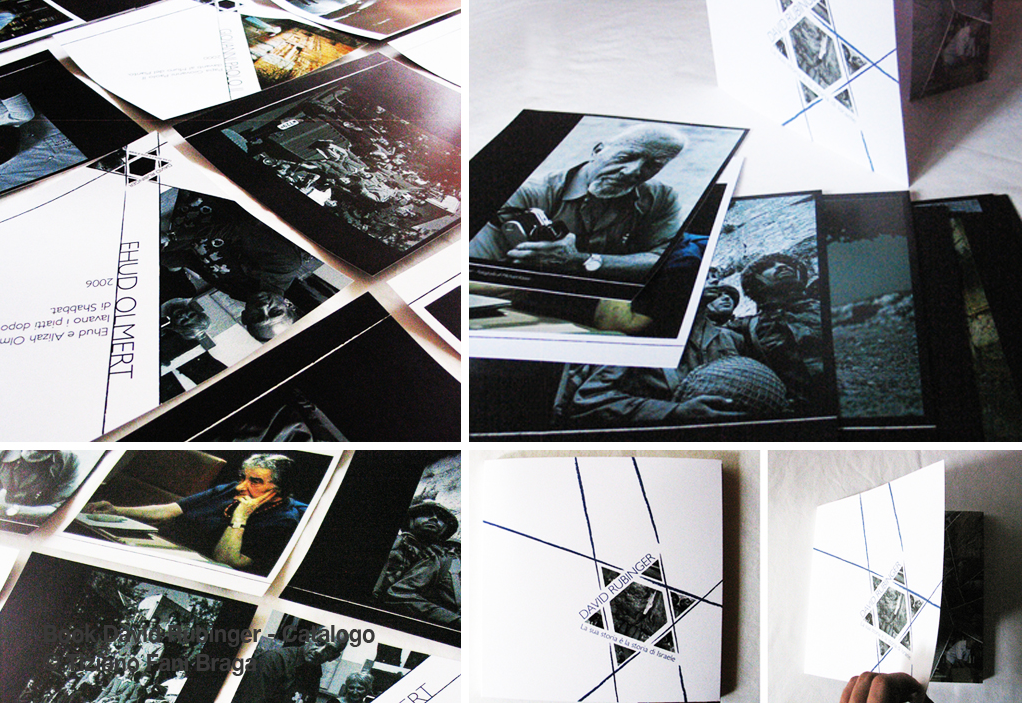 David Rubinger Book
Catalogo creato per la presentazione della mostra del fotografo israeliano David Rubinger organizzato dall'Ambasciata d'Israele in Italia.
Catalogue designed for the presentation of Israeli photographer David Rubinger's exhibition organized by the Embassy of Israel in Italy.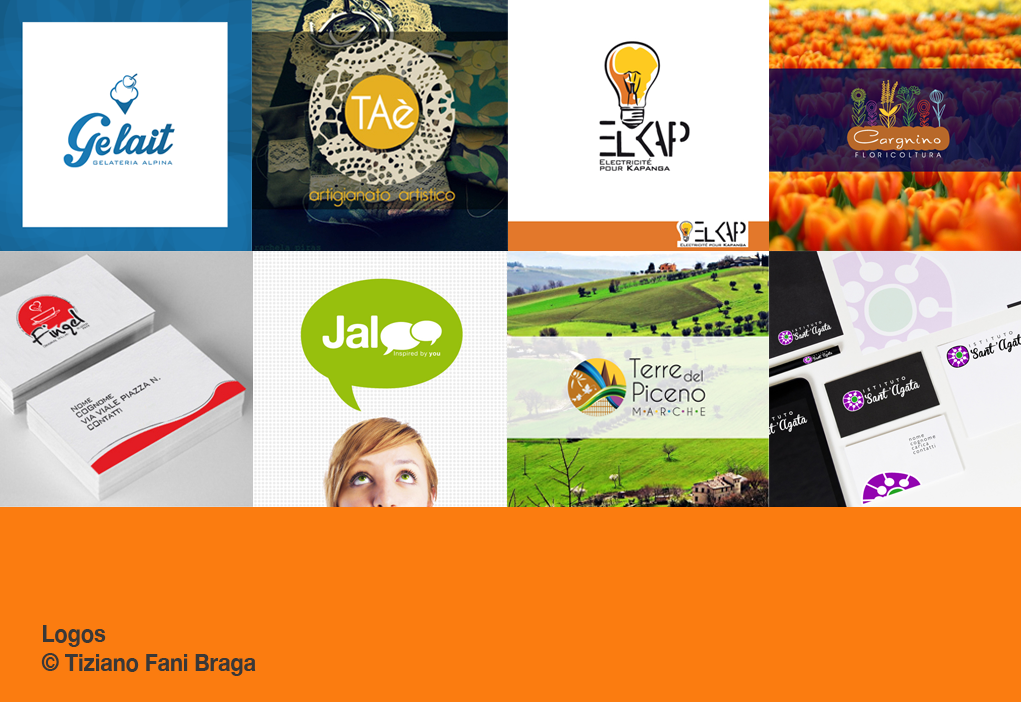 Logos
Loghi creati per vari clienti attraverso il portale Starbytes.

Logos
Logos designed for different clients through Starbytes' portal.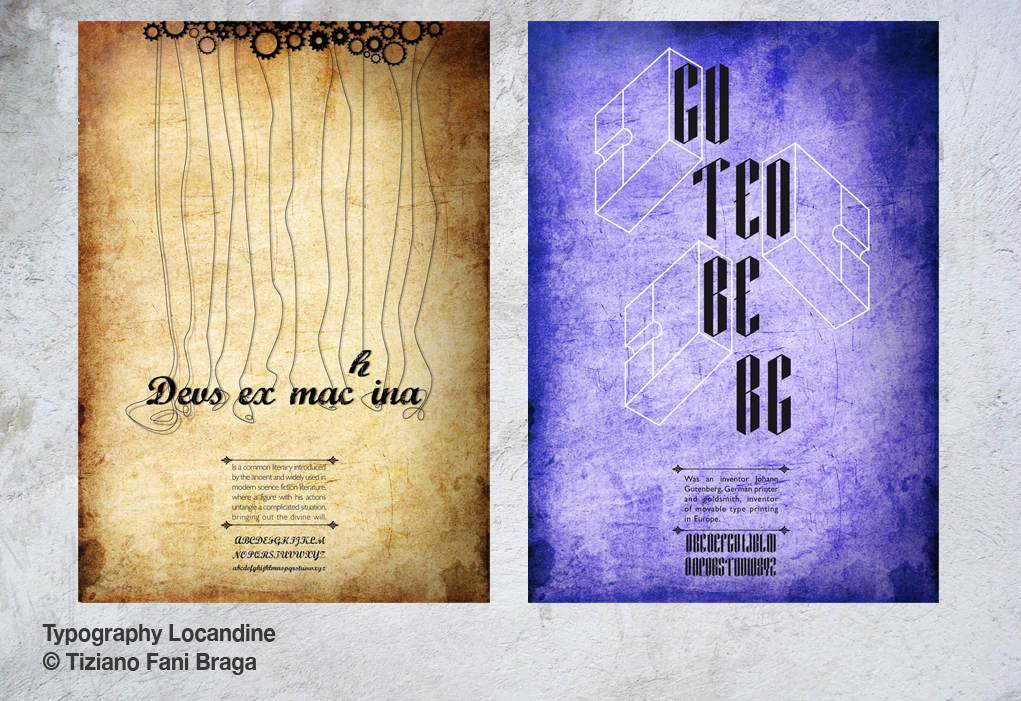 Typography Locandine
Locandine create per rappresentare un font. Progetto universitario per la Tesi.
Posters designed to show a font. University thesis project.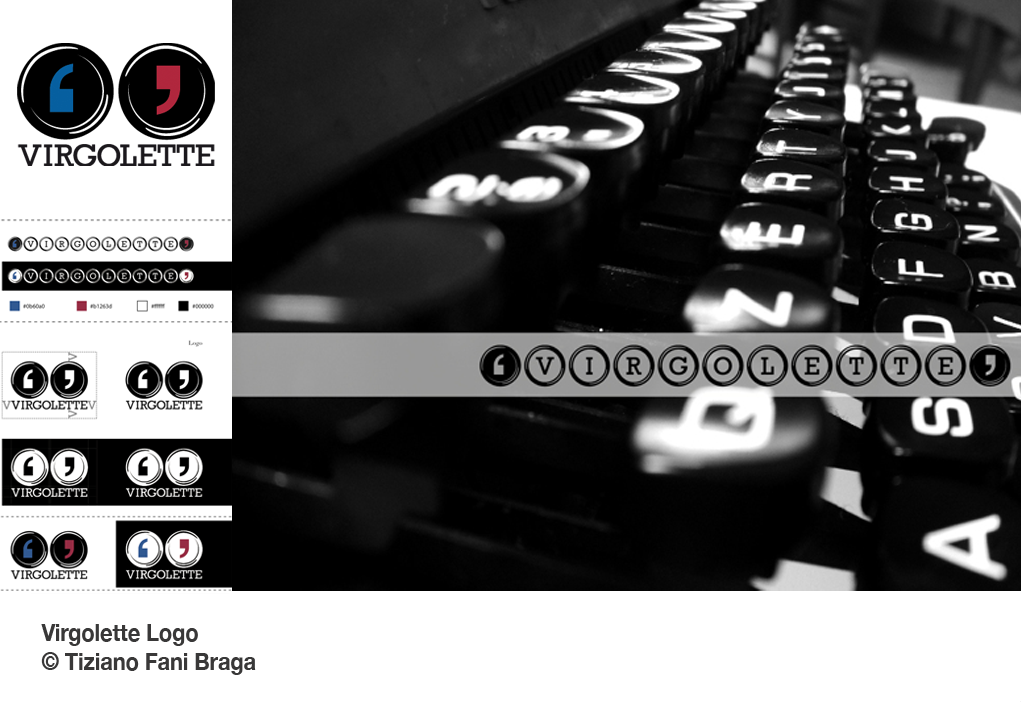 Virgolette Logo
Logo creato per un portale d'informazione. Creato sull'aspetto giornalistico e su uno dei prim strumenti usati nel campo, la macchina da scrivere.
Logo designed for an information portal. It evokes the first journalistic tools, the typewriter.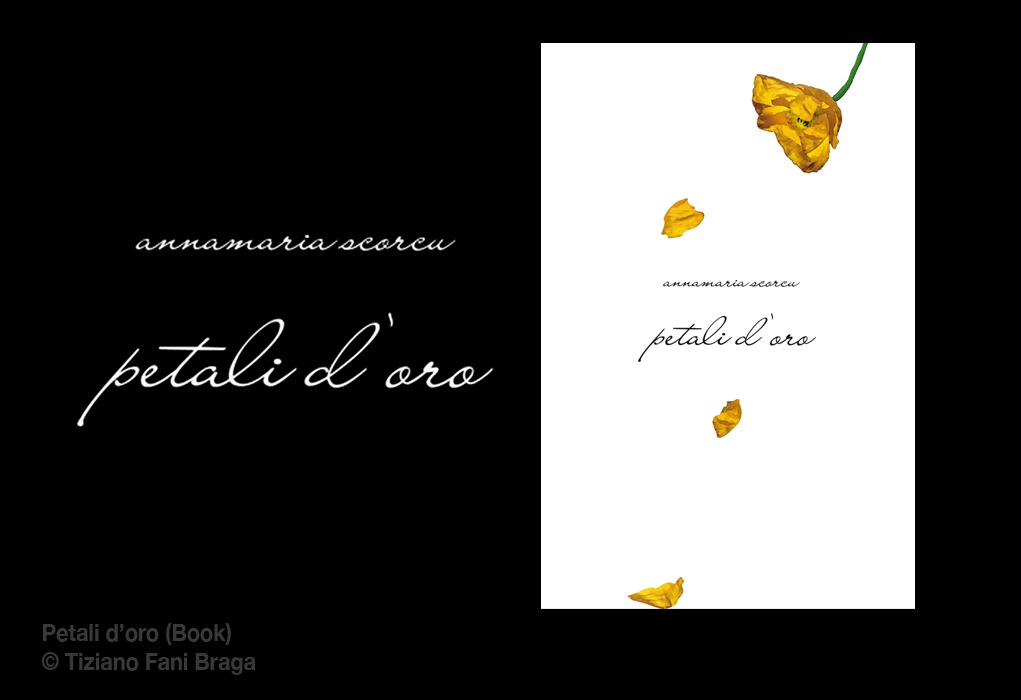 Petali d'oro (Book)
Progetto editoriale creato sul libro della poetessa contemporanea Anna Maria Scorcu. La caratteristica sta proprio nel titolo "petali d'oro" che per per la poetessa rappresentano le sfoglie d'oro usate nell'iconografia: durante l'utilizzo svolazzano come petali.
Editorial project for the book of contemporary poetess Anna Maria Scorcu. Its hallmark lies on the title "golden petals". In the poet's mind they represent the layers of gold used in iconography: while using them, they flutter as petals.
Manifesti
Questi sono due manifesti creati per un esame universitario.
Uno è su un tema sociale del commercio di armi e droga ed è stato realizzato per Amnesty International.
Il secondo è sul font Times e sulla sua riscoperta.
These are two posters created for a university exam. 
The first one is about the social issue of the guns and drug trade, designed for Amnesty International. 
The second one is about the "Times New Roman"' font and its rediscovery.